here are a handful of fine giclee prints available in the store. They were produced by Titan Professional Photo Labs of Troy, MI, and are the pinnacle of inkjet reproduction: archival ink from the best 11-jet machines available on the planet, maintained by craftsmen with 45 years of experience in image processing who write their own color profiles.
Paper used for the larger prints is acid-free 100% cotton, between 300–310 gsm in weight. That thickness is more comparable to 3-ply board than anything else (.425 mm). The 14x17 prints use 230 gsm Premium Archival Matte paper, also acid-free. Both are shipped flat, not rolled in a tube.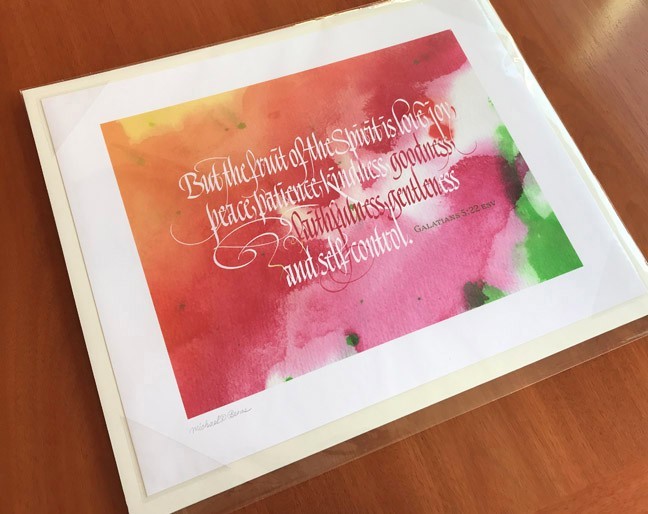 No part of this website or the images contained within may be reproduced or distributed without the direct permission of Calligraphy Scripture, Inc. • © 2019 Calligraphy Scripture, Inc. • All rights reserved
These prints, signed in pencil, are laid on museum board (acid free foam-core) and held in place by 3-inch archival corners. The entire assembly is then encased in an envelope of acid- and lignin-free polypropylene. Four layers of corrugated cardboard complete the final outer shipper, with the flutes of two layers running perpendicular to the others for added strength. Use UV protective glass and display your print out of direct sunlight; they'll last 100 years.

Our favorite daily Bible study, delivered to your inbox.
Click on Today's Video



Bulletin cover art, from Anchor Wallace Publishers

Larger projects may benefit from our experience with the Lutheran High School Association. The art was printed on archival canvas material, glued to gator board, wrapped around a cross-braced stretcher frame, and given a UV protective coating. The initial output size of 80x40" allowed for a final construction of 72x32".